Which event? Which Category ?
First of all, let's say that we should all be looking for the  best experience, and this is what we have always offered at Race Across Italy.
Before registering to one of our events, it is necessary  to understand which one is the most suitable to our experience and physical condition.
If you decide to choose the  unsupported category instead of a supported Team ,radically changes the challenge you are going to face .
Starting from 2022, we have decided to add the Race Across Italy "Sprint Challenge" (RAI300), in order to meet the needs of those who want to approach to our world and making a first step in  an ultra-distance event.
A distance that shares the same route as the long version up to TS 1, but  that allows you to avoid the whole night on the bike, which is a condition that needs  to be learnt with experience.
RAI300  will have all the categories of the classic Race across Italy  ; our Tirreno-Adriatico-Tirreno that is now a must to start the season.
As we were saying, choose the right category  is very important because participating alone in the category with support compared to the one riding without a team definitely changes the difficulty of the performance
Having a car and a team  , ready to help you at the first problem you may have (think mechanical failure),giving you food and drink as you need them, allows the rider to stay focused only on the road and thinking only about getting there.
We'll have then,  those who aim just to be a finisher  and those who aim to be on the podium.
On the other hand, an unsupported cyclist at the Race across Italy "Ultracycling Challenge" (RAI775) will have to organise his strategy only by himself and without external support. Nobody  can support him during his difficult moments, guide him in the management of  navigatio, or helping him for nutrition….
It's true that our unsupported category riders (both RAI775 and RAI300), have some "advantages" compared to other unsupported events such as: free bagdrop at each Time Station  (bags are provided by us in the Race Pack), food and Drinks at TS, pick up service  in case of problems (DNF) along the route etc…
All this organisational effort is aimed to enabling ,even those without support, to live their race experience at the best!
Which category?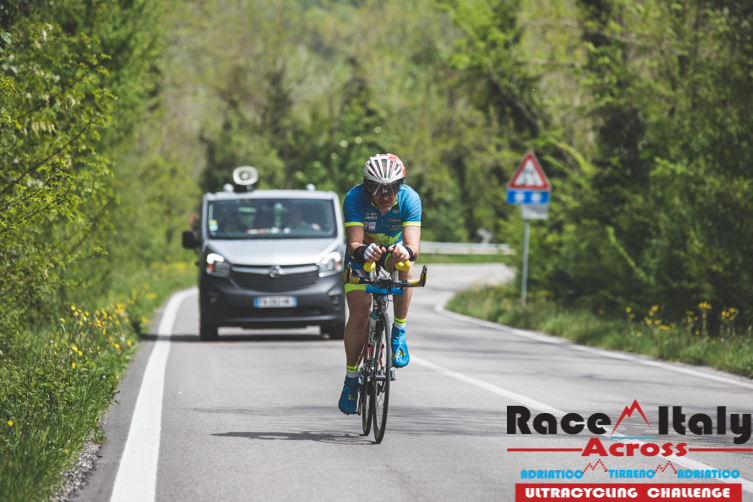 Very interesting categories are  those in teams!
There is , in fact, the possibility to share and live this experience  with a friend, choosing the Pair self-supported formula, or Team of 2 or 4 cyclists in relay and with support car ; in the second case the route is divided between the cyclists and each team manages its own strategy along the way
Imagine to live a weekend of your  favourite sport with a group of your teammates, even promoting your team or in a very goliardic way.
Many teams participates  to promote social activities as well.
The most difficult event for an unsupported rider is the RAI2020 "Unsupported Race across Italy".
In this event, for safety reasons, we check registrations carefully and only accept those with a suitable sporting experience.
There is no fixed track but mandatory checkpoints defined by the organisation (we change them each  year pointing to  centre-north or  centre-south) that lead to a distance of around 2000Km and around 18000mt of elevation gain.
The route have to be built by the participant, who have to  then manage , self supported,  this bikepacking adventure along some of the most beautiful  places in Italy.
What are you waiting? …There's only spoilt for choice, but don't improvise and you'll have a happy biking with Race Across Italy.