We are certainly not going to tell you about nutritional plans, which should be managed only by professionals only under medical control. Anyway we wish give you some general suggestions, we think you may find useful to better manage your performance in if you decide to partecipate to one of the Race across Italy events that we propose.
Ultracycling and Nutrition
TThe experience we have had, over the years , certainly leads us to say that nothing should be umplanned , even in terms of food.
One of the most common mistakes that riders have reported to us, and which unfortunately also led to their DNF, was using food or integrator of various kinds for the first time … This is a crucial point : in order to avoid the risk of DNF (retirement)  during the Race across Italy we should have tested also what to eat / drink and how often ; trying  different foods to understand how our body reacts.
Another important element we have to consider the psychological component. In fact  after so many hours our "taste"  may no longer be looking for something sweet but more likely wants something salty.
It is not a  coincidence that among the professionals in the grand tours, the diet during the race is also based on small sandwiches and the bags are divided for each athlete; everyone has different characteristics and therefore what to eat cannot be standard for everyone.
Another important aspect to check and study the frequency with which we assimilate food and hydrate
Our main suggestion is, so , to prepare very carefully a food plan that you will then try to follow during a multi-day endurance ride  test.
How and what to eat…..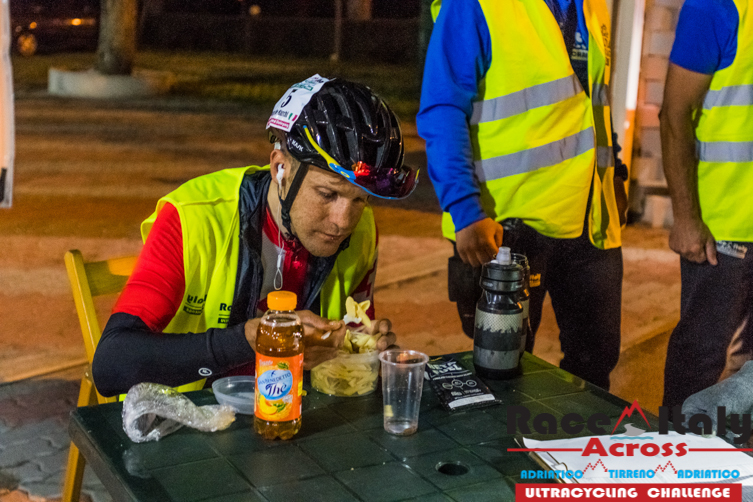 Few and often , means a certain quantity per kg , but this is not a rule!
Those, who have already made experiences improving their distances , have certainly learned to avoid hunger crises, mainly by trying to eat and drink (water and mineral salts.)  continuously ,following a  fixed time schedule.
The glycaemic value is certainly one of the parameters to be monitored.
Science has confirmed that a dose of carbohydrates with a low glycaemic index before a race helps to stabilise blood sugar levels, improve performance and reduce the production of lactic acid, reducing tiredness
However, it is essential to keep the glycaemic index as stable as possible from the start to the finish, to avoid sudden decreases and to support as better as possible the muscular effort.
As first step, we invite you to take a look at a table with the glycaemic indexes of various foods  (there many available on line) and you will certainly be surprised!
See you soon and happy biking with Race across Italy