Race Across Italy – Ranking
Race Across Italy Ranking archive – Together since 2014 !
Race across Italy it's an ultracycling non stop  race starting from Silvi (TE), open to Solo Riders (both self-supported and with support car ) and Teams of 2, 4 cyclists (in relay).
9th edition will start on April 23rd  2022 from our beatiful Silvi Marina 
It is the first Italian Ultracycling event: a double Tirreno-Adriatico that crosses 4 regions, cuts the Apennines twice touching the two seas, and after 775km and over 10,000 meters of elevation returns to Silvi.
Wild nature through some of the most beautiful National Parks in Italy.
Many of you rode on these roads, you didn't give up on our climbs and you enjoyed the spectacular landscapes that our territory gave you at every meter.  We have waited, shaken hands and cheered each and every one of you at the finish line, because every Race Across Italy finisher, for us, is a winner.
Click on the year to see all the details from our historical archive.
Solo supported male over under 50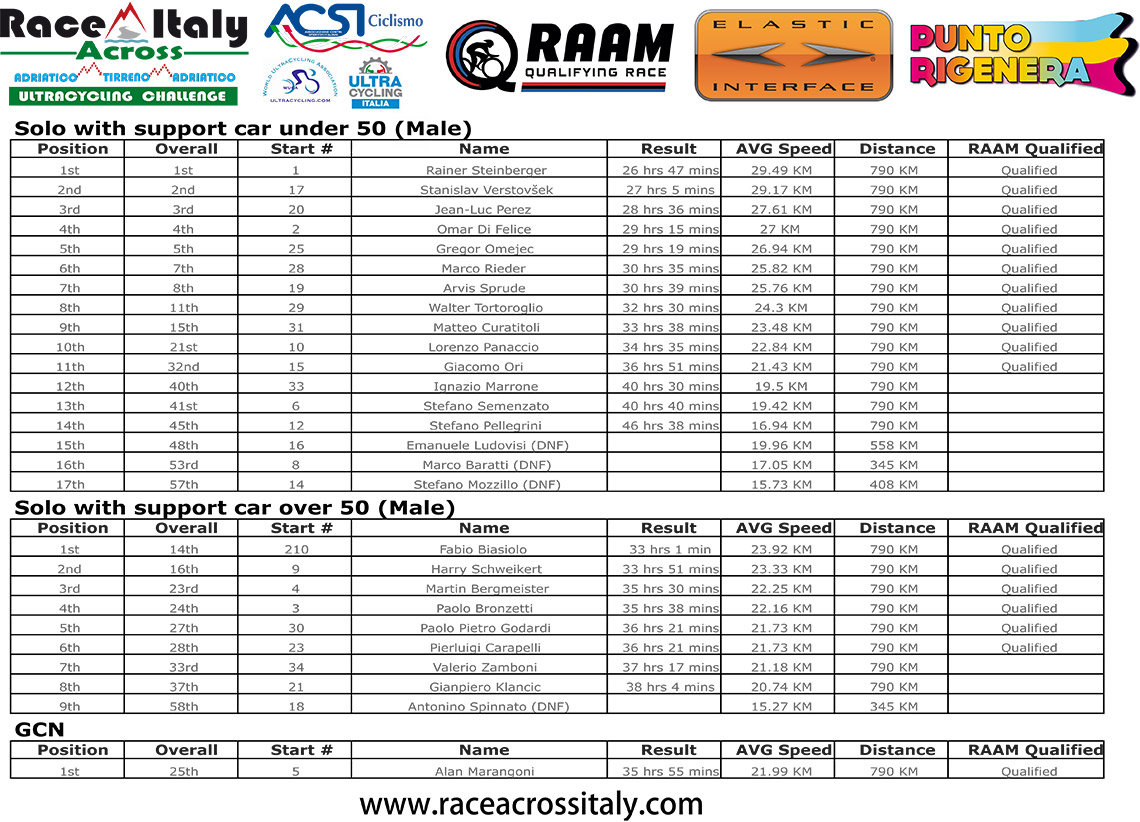 Solo SS over 50 male Pair Solo female Supported under over 50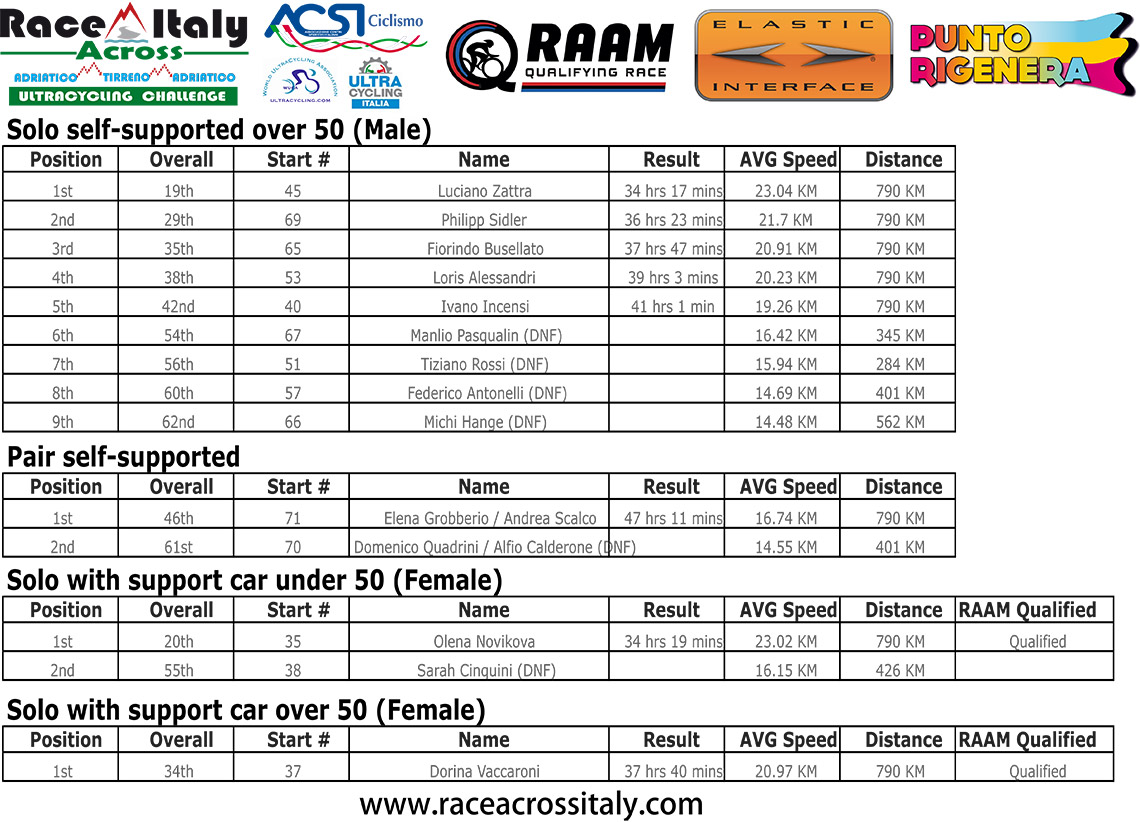 Solo SS under 50-female male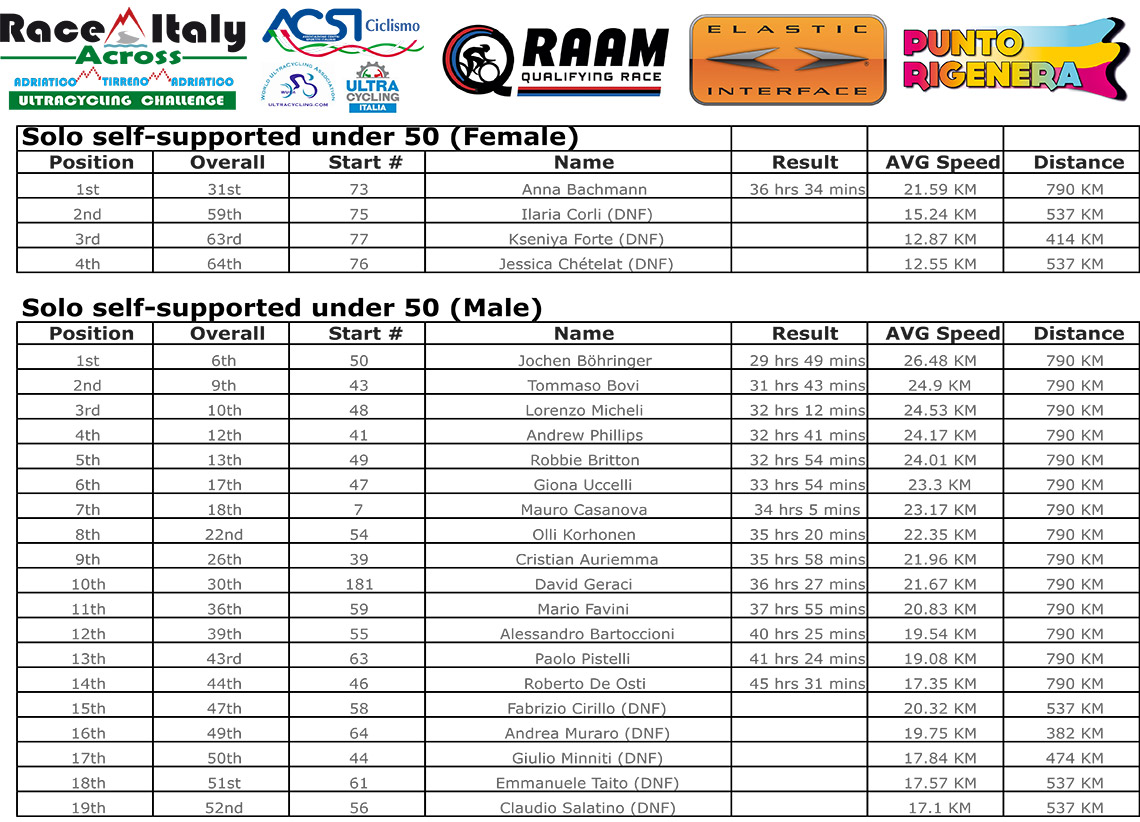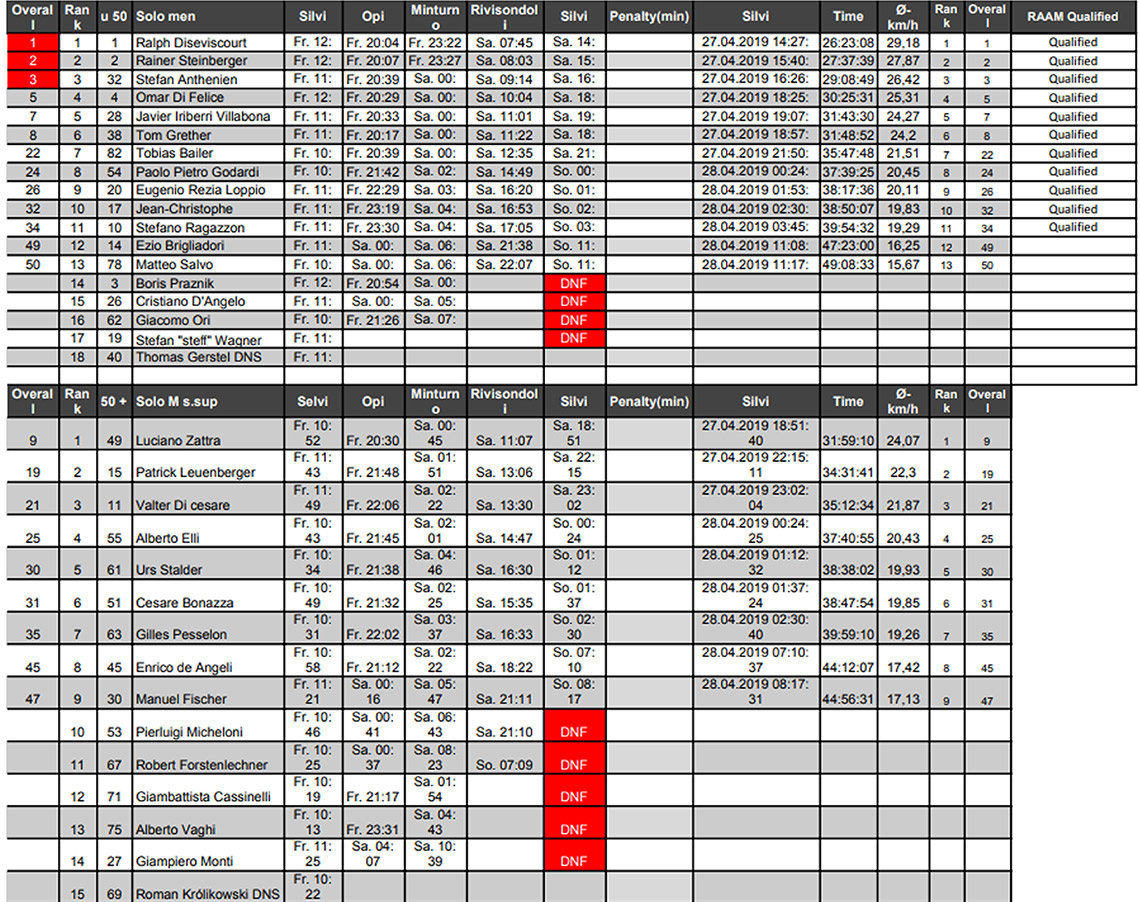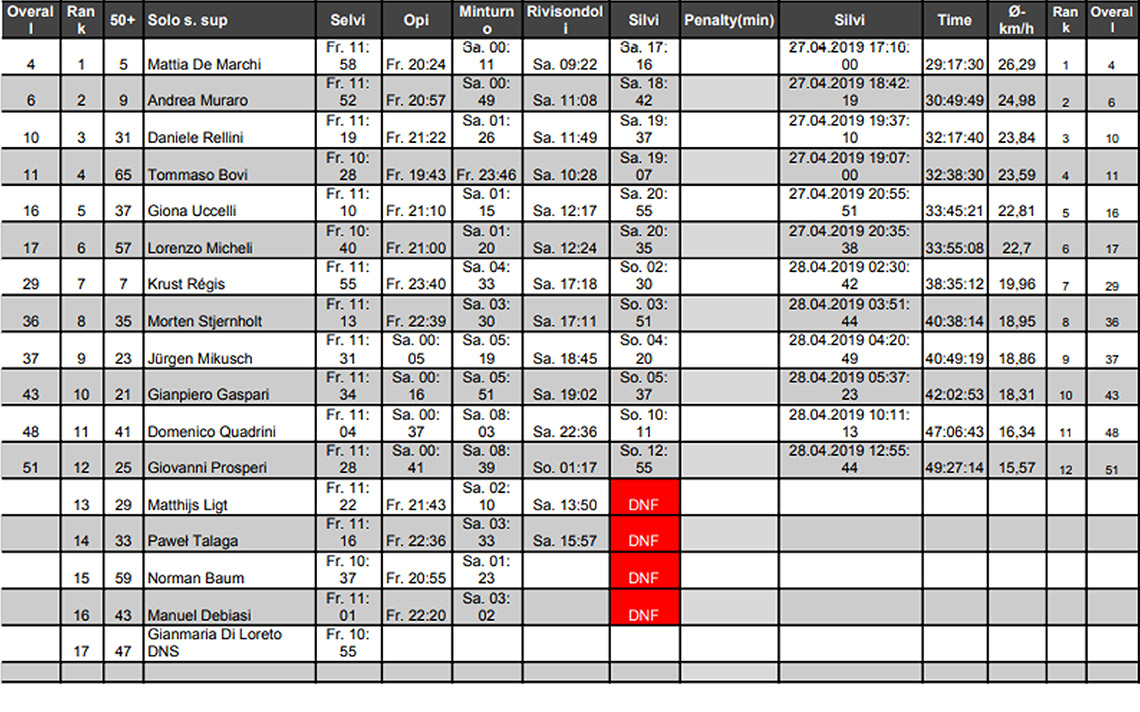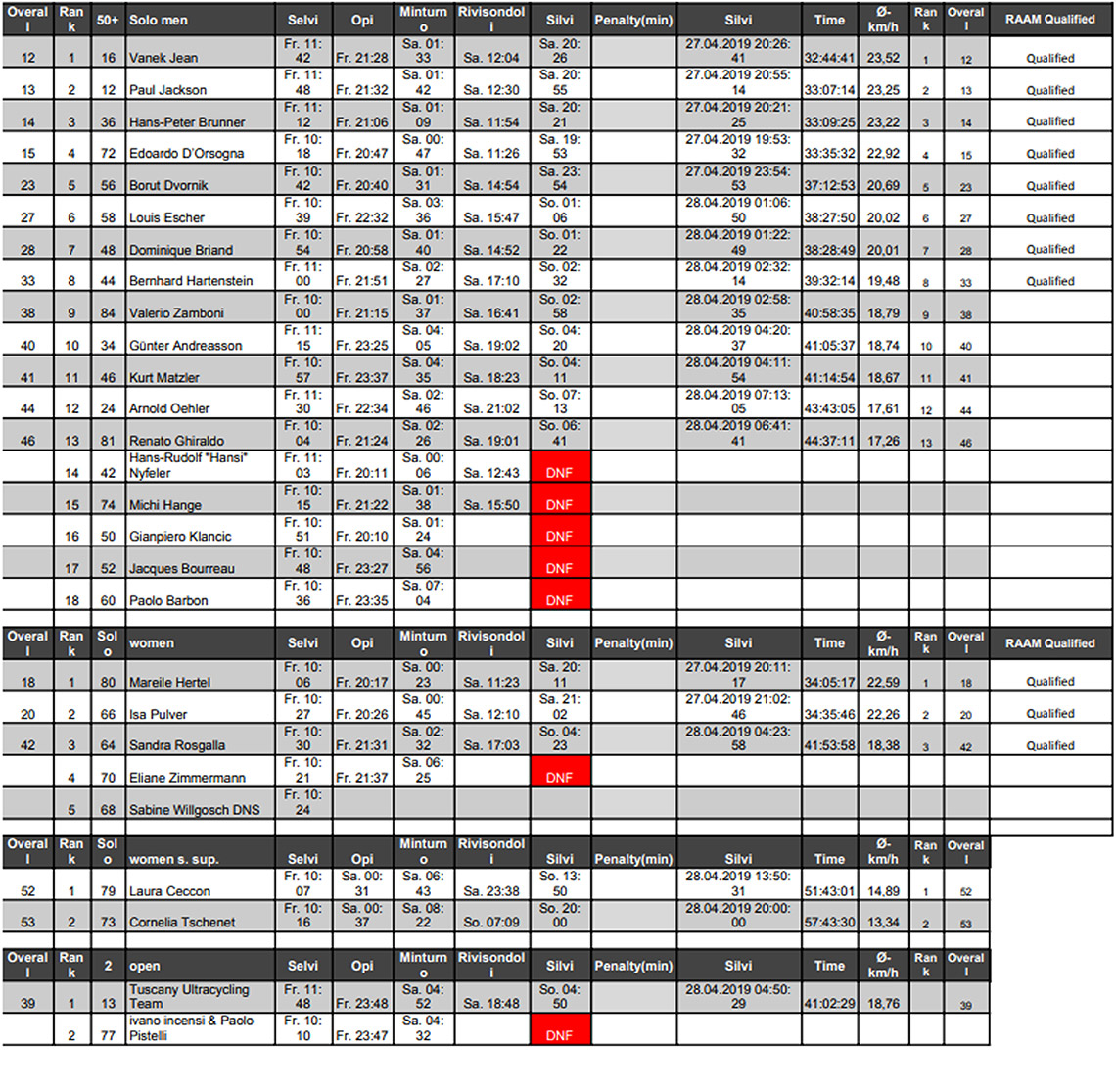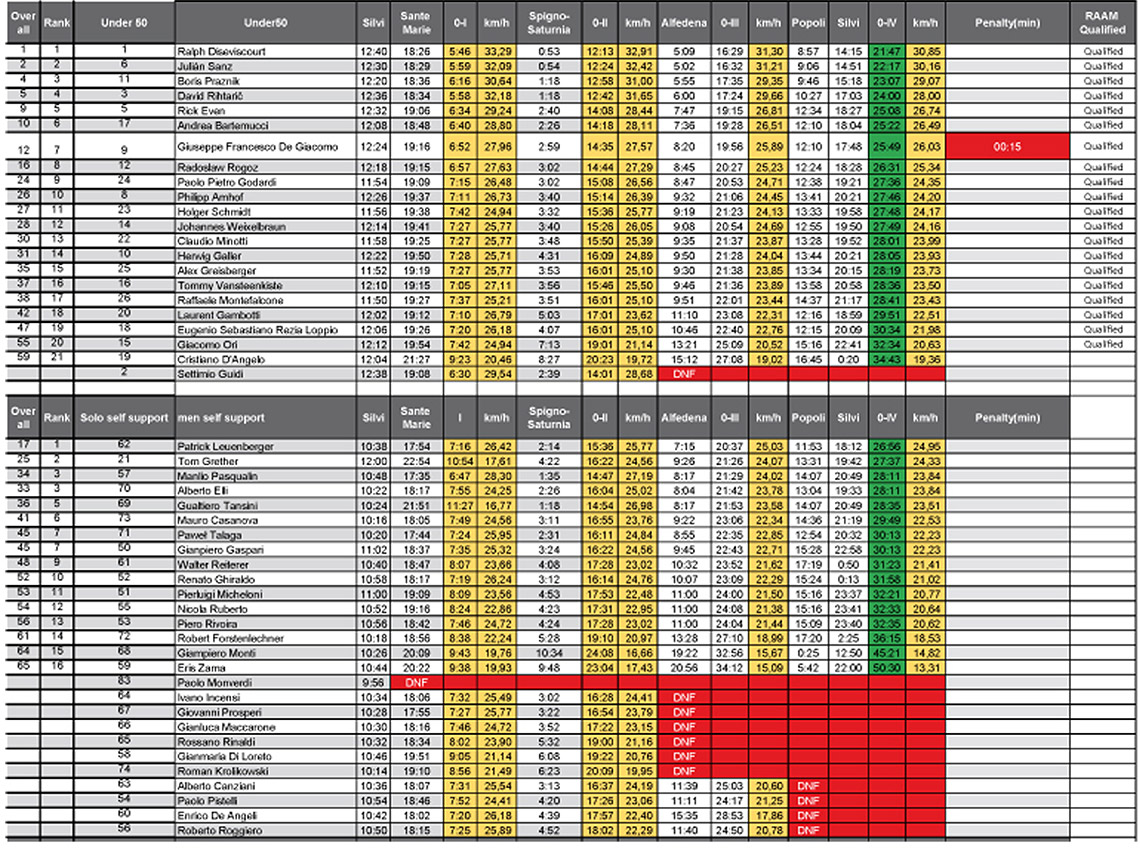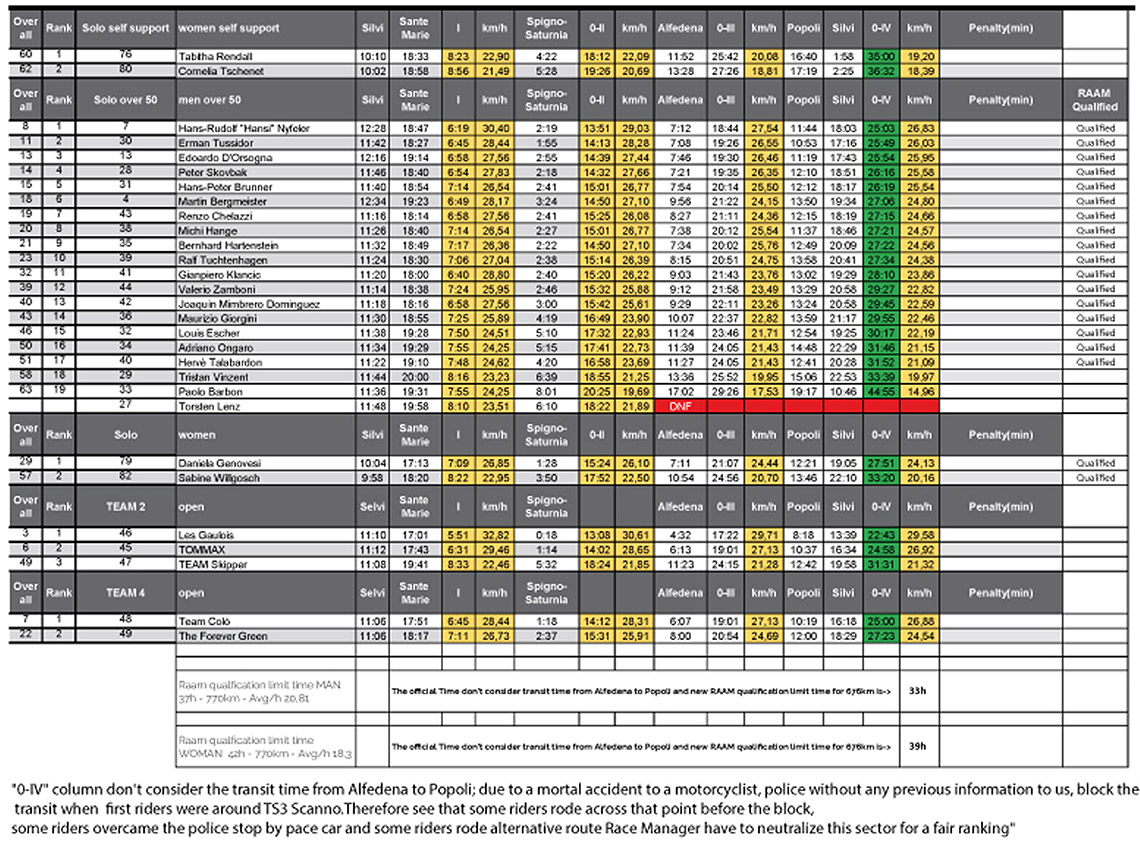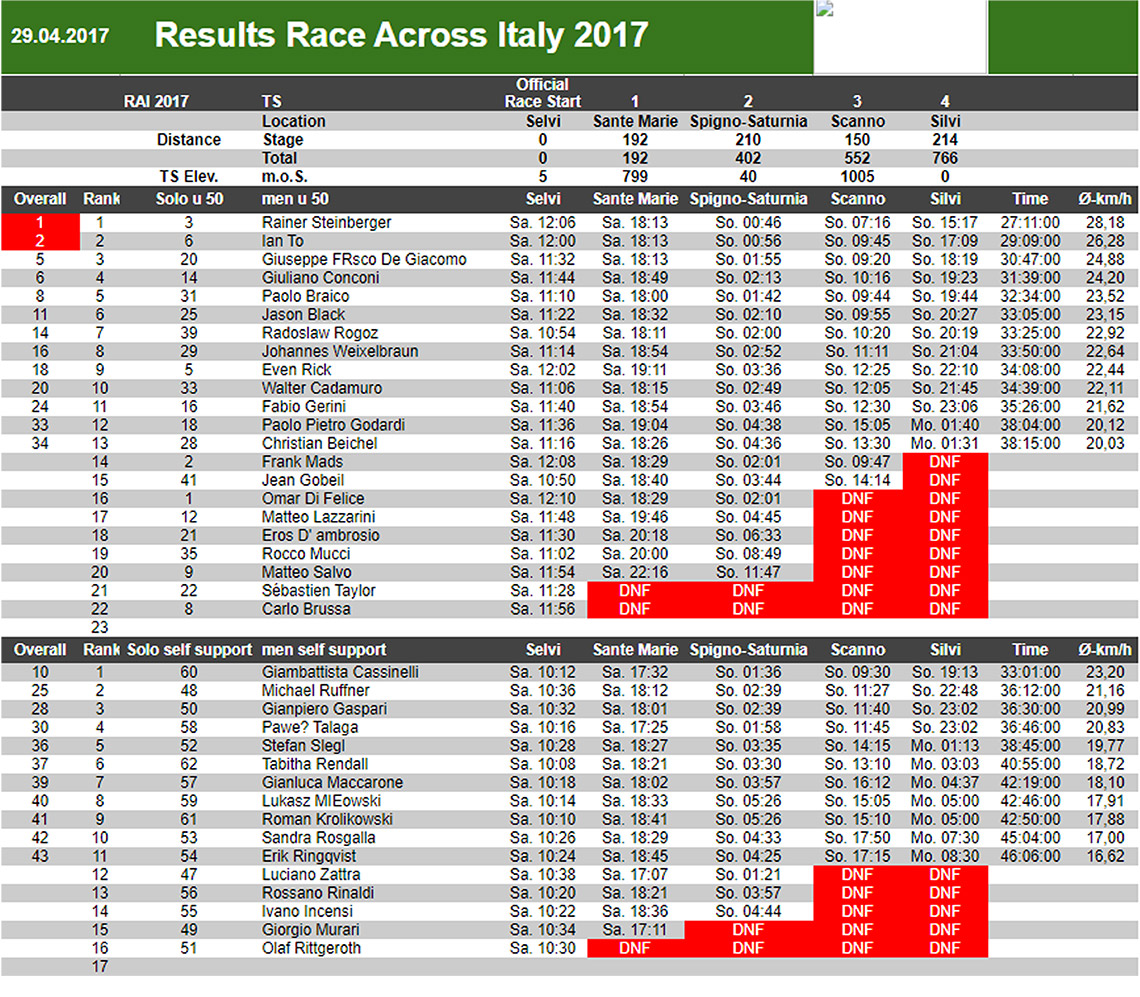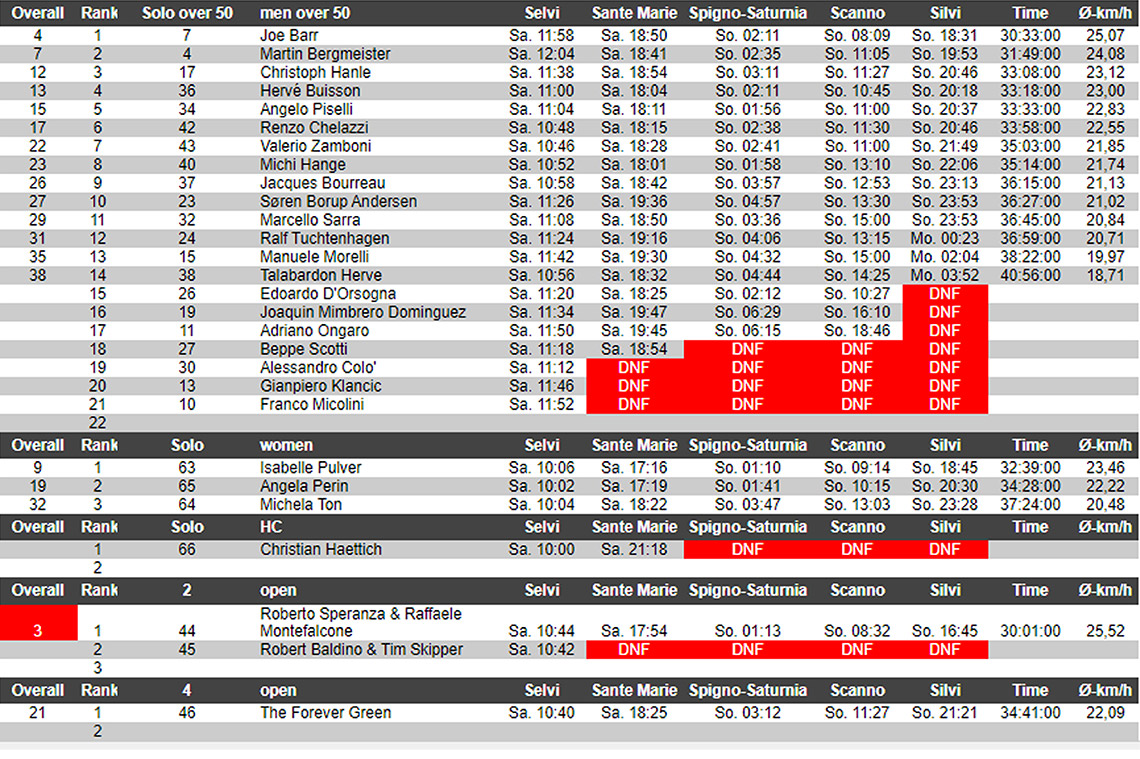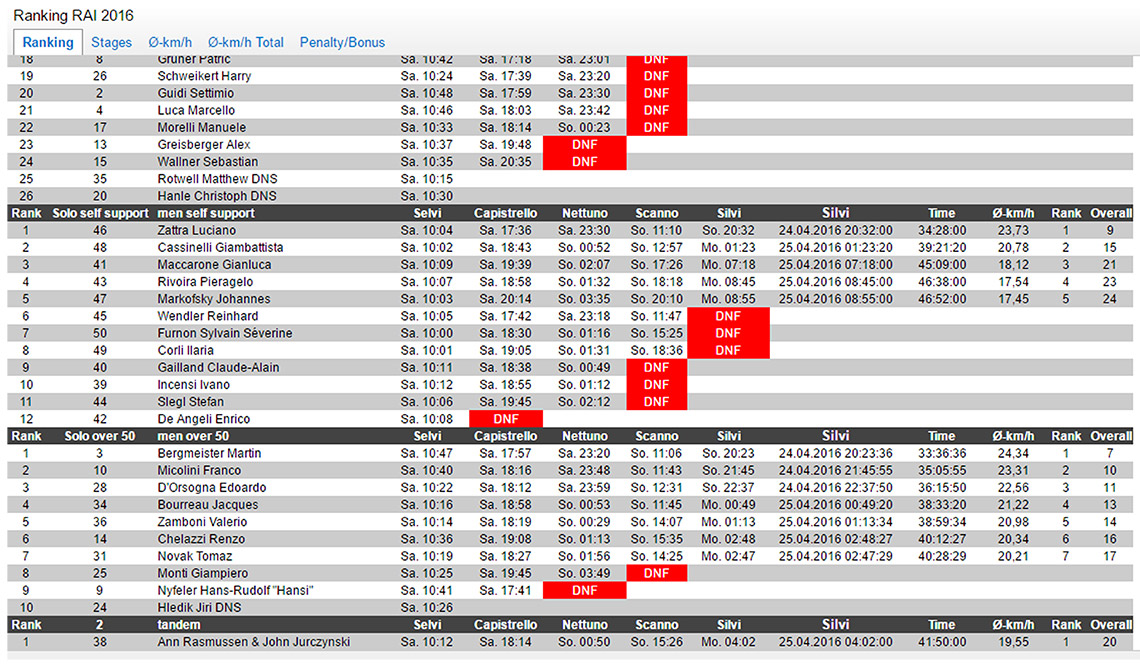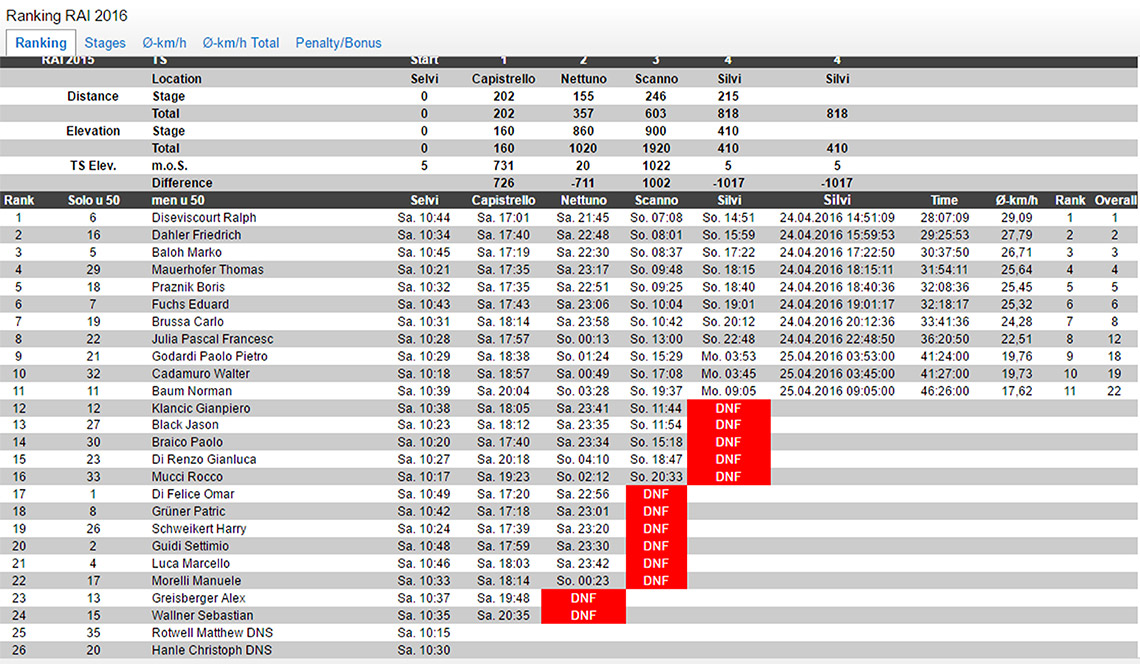 | | | | | | | | | | |
| --- | --- | --- | --- | --- | --- | --- | --- | --- | --- |
| Overall Ranking | Category Ranking | Category | Start Nr | Name | Country | Start Time | Estimated Elapsed Time | AvG | RAAM Qualification |
| 1 | 1 | Under | 2 | Omar Di felice | Ita | 11/04/2015 10:03:00 | 30:26 | 27,37 | RAAM Qualified |
| 2 | 2 | Under | 28 | Settimio Guidi | San Marino | 11/04/2015 09:24:00 | 31:04 | 26,81 | RAAM Qualified |
| 3 | 3 | Under | 13 | Juan Antonio Conesa Lopez | Spain | 11/04/2015 09:46:30 | 31:27 | 26,49 | RAAM Qualified |
| 4 | 4 | Under | 7 | Silvo Psenicick | Slo | 11/04/2015 09:55:30 | 32:38 | 25,53 | RAAM Qualified |
| 5 | 1 | Over | 31 | Martin Bergmeister | Ita | 11/04/2015 09:19:30 | 32:58 | 25,27 | RAAM Qualified |
| 6 | 5 | Under | 5 | Pierre Bishoff | Germany | 11/04/2015 09:58:30 | 33:07 | 25,15 | RAAM Qualified |
| 7 | 6 | Under | 1 | Marcello Luca | Ita | 11/04/2015 10:04:30 | 33:57 | 24,54 | RAAM Qualified |
| 8 | 2 | Over | 8 | Hans Rudolf "Hansi" | CH | 11/04/2015 09:54:00 | 34:55 | 23,86 | RAAM Qualified |
| 9 | 3 | Over | 6 | Stefano Gamper | Ita | 11/04/2015 09:57:00 | 35:26 | 23,51 | RAAM Qualified |
| 10 | 4 | Over | 12 | Franco Micolini | Ita | 11/04/2015 09:48:00 | 35:35 | 23,41 | RAAM Qualified |
| 11 | 1 | Solo | 35 | Thomas Stindl | Aut | 11/04/2015 09:13:30 | 35:42 | 23,33 | X |
| 12 | 2 | Solo | 36 | Stefan Kronawetter | Aut | 11/04/2015 09:12:00 | 35:44 | 23,31 | X |
| 13 | 7 | Under | 11 | Roberto Mastronardo | Ita | 11/04/2015 09:49:30 | 35:48 | 23,27 | RAAM Qualified |
| 14 | 1 | Woman | 41 | Daniela Genovesi | Brazil | 11/04/2015 09:04:30 | 35:53 | 23,21 | RAAM Qualified |
| 15 | 8 | Under | 17 | Giampiero Klancic | Ita | 11/04/2015 09:40:30 | 37:06 | 22,45 | Not RAAM Qualified |
| 16 | 3 | Solo | 34 | Thomas Schwald | Aut | 11/04/2015 09:15:00 | 37:51 | 22,01 | X |
| 17 | 2 | Woman | 42 | Angela Perin | Ita | 11/04/2015 09:03:00 | 38:45 | 21,50 | RAAM Qualified |
| 18 | 9 | Under | 20 | Roberto De Osti | Ita | 11/04/2015 09:36:00 | 39:21 | 21,17 | Not RAAM Qualified |
| 19 | 3 | Woman | 45 | Michela Ton | Ita | 11/04/2015 08:58:30 | 39:23 | 21,15 | RAAM Qualified |
| 20 | 5 | Over | 16 | Michi Hange | Germany | 11/04/2015 09:42:00 | 39:32 | 21,07 | Not RAAM Qualified |
| 21 | 10 | Under | 25 | Edoardo D'Orsogna | Ita | 11/04/2015 09:28:30 | 40:59 | 20,33 | Not RAAM Qualified |
| 22 | 11 | Under | 30 | Marco Morando | Ita | 11/04/2015 09:21:00 | 41:04 | 20,28 | Not RAAM Qualified |
| 23 | 12 | Under | 24 | Paolo Pietro Godardi | Ita | 11/04/2015 09:30:00 | 41:07 | 20,26 | Not RAAM Qualified |
| 24 | 4 | Solo | 37 | Ivano Incensi | Ita | 11/04/2015 09:10:30 | 41:08 | 20,25 | X |
| 25 | 5 | Solo | 32 | Claude-Alain Gailland | CH | 11/04/2015 09:18:00 | 41:10 | 20,23 | X |
| 26 | 4 | Woman | 40 | Anna Mei | Ita | 11/04/2015 09:06:00 | 41:41 | 19,98 | RAAM Qualified |
| 27 | 13 | Under | 10 | Alex Greisbergeer | Aut | 11/04/2015 09:51:00 | 41:54 | 19,88 | Not RAAM Qualified |
| 28 | 5 | Woman | 43 | Marina Dionisi | Ita | 11/04/2015 09:01:30 | 44:43 | 18,63 | Not RAAM Qualified |
| 29 | 6 | Woman | 44 | Elisabeth Schwibs | Germany | 11/04/2015 09:00:00 | 46:15 | 18,01 | Not RAAM Qualified |
| | | | | | | | | | |
| 30 | | Over | 4 | Joe Barr | Ireland | 11/04/2015 10:00:00 | DNF | | |
| 32 | | Under | 23 | Gaetano Trimarchi | Ita | 11/04/2015 09:31:30 | DNF | | |
| 33 | | Under | 3 | Plinio Cesare | Ita | 11/04/2015 10:01:30 | DNF | | |
| 34 | | Under | 9 | Aske Soby | Denmark | 11/04/2015 09:52:30 | DNF | | |
| 35 | | Solo | 33 | Giorgio Murari | Ita | 11/04/2015 09:16:30 | DNF | | |
| 36 | | Over | 26 | Beppe Scotti | Ita | 11/04/2015 09:27:00 | DNF | | |
| 43 | | Under | 14 | Renzo Chelazzi | Ita | 11/04/2015 09:45:00 | DNF | | |
| 37 | | Under | 29 | Sebastian Wallner | Aut | 11/04/2015 09:22:30 | DNF | | |
| 38 | | Under | 22 | Stefano Baron | Ita | 11/04/2015 09:33:00 | DNF | | |
| 39 | | Under | 21 | Stefano Facchini | Ita | 11/04/2015 09:34:30 | DNF | | |
| 40 | | Under | 18 | Rocco Mucci | Ita | 11/04/2015 09:39:00 | DNF | | |
| 41 | | Under | 27 | Wyatt Wendels | UK | 11/04/2015 09:25:30 | DNF | | |
| 44 | | Solo | 38 | Nino Sarra | Ita | 11/04/2015 09:09:00 | DNF | | |
| 42 | | Under | 19 | Steve Harvey | UK | 11/04/2015 09:37:30 | DNF | | |
| | | | | | | | | | |
| --- | --- | --- | --- | --- | --- | --- | --- | --- | --- |
| numero | | Surname | CATEGORY | Country | START Silvi July 26 | Estimated Elapsed Time | Category Ranking | Overall Ranking | RAAM Qualification |
| 19 | Marcello | Luca – ITA | MU | Italy | 8:42 AM | 29.32 | 1 | 1 | Raam Qualified |
| 6 | BRIDE | PASCAL – FRA | MO | France | 8:16 AM | 30.51 | 2 | 1 | Raam Qualified |
| 8 | Josef | Ebner – AUT | MO | Austria | 8:20 AM | 32.25 | 2 | 3 | Raam Qualified |
| 27 | Giordano | Biancacci – ITA | MU | Italy | 8:58 AM | 33.22 | 2 | 4 | Raam Qualified |
| 25 | Michael | Westerhaus – GER | MU | Germany | 8:54 AM | 33.36 | 3 | 5 | Raam Qualified |
| 1 SP | Thomas | Schwald | SP | Austria | 8:00 AM | 33.40 | 1 | 6 | x |
| 14 | Reinhard | Wendler – AUT | MU | Austria | 8:32 AM | 34.38 | 4 | 7 | Raam Qualified |
| 13 | Gianpiero | Klancic – ITA | MU | Italy | 8:30 AM | 34.55 | 5 | 8 | Raam Qualified |
| 29 | Valerio | Zamboni – ITA | MO | Italy | 9:02 AM | 35.20 | 3 | 9 | Raam Qualified |
| 3 | Laura | Messina – ITA | W | Italy | 8:10 AM | 35.51 | 1 | 10 | Raam Qualified |
| 2 | De Rosa | Astrid – ITA | W | Italy | 8:08 AM | 37.11 | 2 | 11 | Raam Qualified |
| 11 | Michi | Hnage – GER | MO | Germany | 8:26 AM | 37.13 | 4 | 12 | Raam Qualified |
| 31 | Luca | Listorti – ITA | MU | Italy | 9:06 AM | 37.15 | 6 | 13 | Not Raam Qualified |
| 2 SP | Christian | Schwald | SP | Austria | 8:02 AM | 39.02 | 2 | 14 | x |
| 4 | Kirk | Gentle – UK | MO | UK | 8:12 AM | 40.27 | 5 | 15 | Raam Qualified |
| 10 | Franco | Micolini – ITA | MO | Italy | 8:24 AM | DNF | DNF | DNF | |
| 12 | ugo | lamon – ITA | MO | Italy | 8:28 AM | DNF | DNF | DNF | |
| 16 | Rocco | Mucci – ITA | MU | Italy | 8:36 AM | DNF | DNF | DNF | |
| 18 | ARNAUD | MANZANINI  – FRA | MU | France | 8:40 AM | DNF | DNF | DNF | |
| 22 | Gambone | Vincenzo – ITA | MU | Italy | 8:48 AM | DNF | DNF | DNF | |
| 24 | Vassallo | Marco – ITA | MU | Italy | 8:52 AM | DNF | DNF | DNF | |
| 26 | Carsten | Wiuff – DEN | MU | Danmark | 8:56 AM | DNF | DNF | DNF | |
| 28 | Michael | Pohland – GER | MU | Germany | 9:00 AM | DNF | DNF | DNF | |
| 3 SP | FULVIO | GAMBARO | SP | Italy | 08:04:00 (DNS) | DNS | DNS | DNS | |
| 1 | Vittorio | Risi – ITA | MO | Italy | 08:06:00 (DNS) | DNS | DNS | DNS | |
| 5 | Hermann |  Bachmann – CH | MO | CH | 08:14:00 (DNS) | DNS | DNS | DNS | |
| 7 | ENRICO | De Angeli – ITA | MO | Italy | 08:18:00(DNS) | DNS | DNS | DNS | |
| 9 | Renzo | Chelazzi – ITA | MO | Italy | 08:22:00 (DNS) | DNS | DNS | DNS | |
| 15 | Manfred | John – AUT | MU | Austria | 08:34:00 (DNS) | DNS | DNS | DNS | |
| 17 | Laurent | Moulineau  – FRA | MU | France | 08:38:00 (DNS) | DNS | DNS | DNS | |
| 20 | Matteo | Lazzarini – ITA | MU | Italy | 08:44:00 (DNS) | DNS | DNS | DNS | |
| 21 | Simone | Cannelli – ITA | MU | Italy | 08:46:00 (DNS) | DNS | DNS | DNS | |
| 23 | Stefano | Facchini – CH | MU | Svizzera | 08:50:00 (DNS) | DNS | DNS | DNS | |