"It's not just cycling, it's not just travel, it's not just adventure but a mix of all three" These are the words used by Paolo Laureti to open his docufilm "VERSO UNA NUOVA ALBA- My life on the bike without limits".
The bike, in ultracycling is very important, yes, but you have to develop other aspects:
how to manage unexpected events,
riding without any schemes,
cycling without planning the hotel or where to stop.
Ultracycling is not a bike tour; travelers plans their daily stages, they stops and starts again the following day.. in the Ultracycling you proceed without scheduling This obliges you to make quick choices and to improvise, and improvisation is the most exciting part of the adventure, without improvisation there is no adventure!
Ultracycling allows you to find always new challenges. When you come into this world you will appreciate how many experience it can offer you not only in terms of sport and cycling but mainly in terms of feelings and emotions. The bike does not gift you anything and Ultracycling is a sport where you have to be determined otherwise you do not succeed.
Keywords are:
Adaptation: in the Ultracycling the bike becomes your home and if you decide to ride without any external support then you can only count on what you have and what you find along the way Therefore your ability to adapt becomes essential to succeed.
Strategy: another important quality if you practice Ultracycling, you have to know when and how much to stop and study your competitors' stops. You have to know very well your needs and your resistance , being able to manage the nightride and the long time spent on the bike (17/18 hours per day), even for weeks.
Calm: you need to know how to manage the crises that inevitably arrive, but if you face them calmly and with a cool head, without being overtaken by emotion and panic, they are easily overcome.
You might be interested in…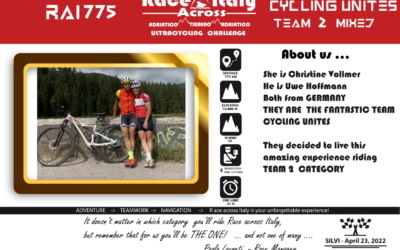 Christine Vollmer & Uwe Hoffman are the TEAM CYCLING UNITES  RAI 775  -TEAM 2 She is Christine VollmerHe is   Uwe HoffmannBoth are from GERMANYThey are the  TEAM CYCLING UNITES They have decided to live this amazing experience riding in TEAM 2 CATEGORY